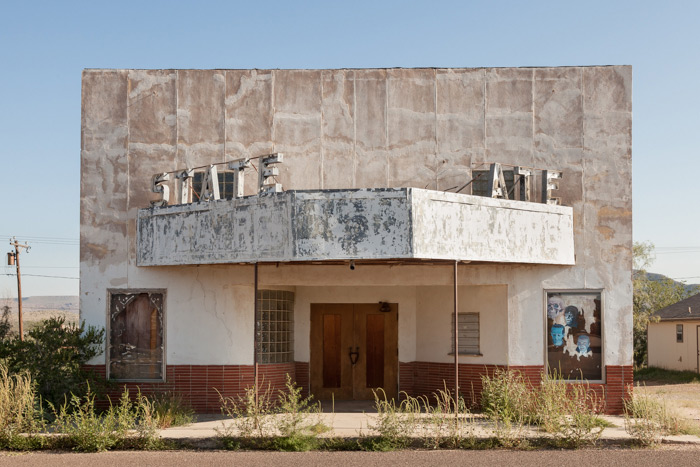 EXHIBITION: NCM EXPOSED @PHOTOFUSION
NCM Exposed
Photofusion
17A Electric Lane
London
SW9 8LA
17 July – 28 August 2015
Sam Nightingale's work 'State Theatre, Sierra Blanca' will be exhibited as part of Photofusion's NCM Exposed exhibition taking place between 17 July – 28 August 2015.
State Theatre, Sierra Blanca, is one of the many ghostly cinema spaces that the Nightingale has photographed while exploring the residue of cinema found in rural environments. These are spectral spaces marked by social and geographic change as the site of film has shifted over time. Sierra Blanca is a small town in the Chihuahua Desert in Far West Texas, close to the border with Mexico. It is an area rich with cinematic fable and history, such as the mythical stories of a 'Movie Mountain' where a silent film was made in 1900 by Gaston Méliès, the lesser know brother of George Méliès, or the now vanished film set for Giant, the 1956 film starring the legendary Elizabeth Taylor and James Dean.
Bio:
Sam Nightingale is a London-based artist who works with photography and the moving image. Nightingale's practice is research driven and responds to site to explore and enliven the spectral spaces of cinema, both real and imagined in locations across Europe, Australia and America. Recent related projects include: The Cinemas Project (Australia), a large-scale project that maps the spectral spaces of cinema in rural locations across the state of Victoria; Islington's Lost Cinemas (UK), an ongoing photographic research project that traces the history of cinema in the London Borough of Islington; and Parallax Shifts: In Search of Imagined Landscapes (USA), part of an Artist-in-Residence programme offered by A Brooks Art, where Nightingale went in search of the imagined landscapes of the 'Spaghetti Western' in the deserts of the American South West.
Details:
NCM Exposed
Photofusion
17A Electric Lane
London
SW9 8LA
17 July – 28 August 2015